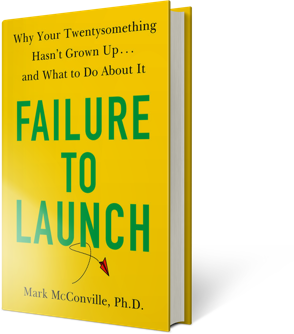 WHY YOUR TWENTYSOMETHING HASN'T GROWN UP…
From an expert in adolescent psychology comes a groundbreaking, timely, and necessary guide for parents of the 2.2 million young adults in America who are struggling to find their way in the world.
FAILURE TO LAUNCH
In Dr. Mark McConville's decades of experience as a family clinical psychologist, perhaps no problem has been more fraught than that of young adults who fail to successfully transition from adolescence into adulthood. These kids–technically adults–just can't get it together: They can't hold a job, they struggle to develop meaningful relationships, and they often end up back in their parents' spare bedroom or on the couch. In fact, studies show that 1 in 4 Americans aged 25 to 34 neither work nor attend school, and it's a problem that spans all socioeconomic and geographic boundaries.
McConville investigates the root causes of this problem: Why are modern kids "failing to launch" in ever-increasing numbers? The key, McConville has found, is that they are struggling with three critical skills that are necessary to make the transition from childhood to adulthood–finding a sense of purpose, developing administrative responsibility, and cultivating interdependence. In Failure to Launch, McConville breaks these down into achievable, accessible goals and offers a practical guide for the whole family, to help parents instill those skills in their young adults–and to get their kids into the real world, ready to start their lives.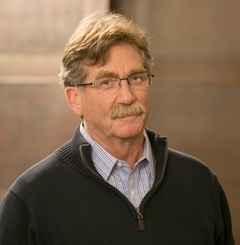 Mark McConville, Ph.D.
Mark McConville Ph.D. is a Clinical Psychologist in private practice in Beachwood, Ohio, specializing in adult, adolescent, emerging adult, and family psychology.
WHAT PEOPLE ARE SAYING
"Wise, expert, reassuring, realistic, humble, funny, compassionate, unflappable…a beautiful book, which is also eminently useful. What a gift."
–Gordon Wheeler
President of Esalen
"What is loving support? What is destructive enabling? With an easy manner and deep respect for both parents and youth, the brilliant Mark McConville offers insight and clarity for weary parents…
Failure to Launch will lead you and your child out of the confusing maze of post-adolescence…Read this book and breathe!"
–Wendy Mogel, Ph.D.
Author of The Blessing of a Skinned Knee and Voice Lessons for Parents
"On one of the toughest topics in all of parenting—what to do when a grown child refuses to grow up—Failure to Launch offers clear, practical, and deeply insightful advice…
With wisdom, empathy, and unflinching honesty, Dr. Mark McConville explains just how young people get stuck and lays out a helpful path forward for the whole family."
–Lisa Damour
Author of Untangled and Under Pressure
"It can feel as shameful as it is painful when other people's kids are winning Nobel Prizes—or at least getting jobs, homes and partners—while yours is still unlaunched…
But this condition is extremely common. Dr. McConville removes the stigma while assuring you that, as lonely and frustrated as you feel, you are not alone. A path forward awaits, inside these pages."
—Lenore Skenazy
President of Let Grow and founder of Free-Range Kids
---